High Calcium Lime, in the form of high-calcium lime putty or supplied as Calcium Oxide (Quicklime), is supplied by Stoneware Studios as an alternative to Naturally Hydraulic Limes.  All our Quicklime is made from Irish limestone.  All our Lime Putty is allowed to mature for 6 months (at least) to allow for a first class quality product.
Our Lime Putty (or Quicklime, in some cases) can be mixed with a range of aggregates, appropriate to the application, on site or can be purchased as part of a pre-mixed lime mortar supplied in 1 tonne bulk bags. Special mortar mixes are held in stock for all building needs, including pointing, rendering, setting and harling.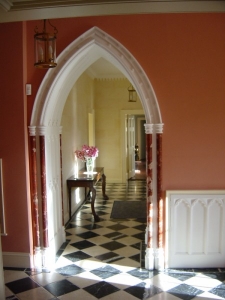 Fat lime (often called Non-Hydraulic or High Calcium) mortars and plasters set by a simple chemical reaction between lime (calcium hydroxide) and airborne carbon dioxide. Because of this characteristic, fat-lime mortars and plasters set slowly and need to be carefully cured and protected. Nevertheless, in return for this special care, these mortars and plasters are the most suitably flexible and forgiving to the vagaries of historic solid masonry structures.
An extensive range of Lime washes are also available; mixture of Lime Putty and other natural ingredients give a robust and beautiful finish to your work.