Stoneware Studios has been the main distributor of Roundtower Limes in Ireland for almost 20 years. Manufactured by Socli, the largest producer of Naturally Hydraulic Lime in France, this range of limes gives first class results, breathability and vapour permeability, flexibility, minimal shrinkage and stability over time.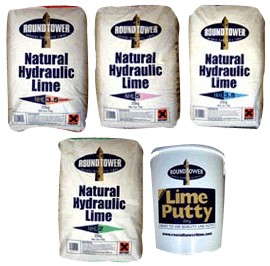 .
With its two lime quarries and manufacturing plants, Socli is one of the leading companies in the manufacture of Naturally Hydraulic Lime in the World.
Created in 1863, the factory of Sauveterre-la-Lémance is one of the oldest in Europe in the production of Natural Hydraulic lime while the factory of Izaourt (Founded 1903) is also one of the most important producers of Natural Hydraulic lime in the World by virtue of its four vertical kilns, extensive test laboratories and superb training centre.
Roundtower Natural Hydraulic Limes are natural products. They contain no additives and are not blended. Roundtower Natural Hydraulic Limes are suitable for building restoration and conservation. Equally, they are very suitable for new construction and engineering works. Roundtower Natural Hydraulic Limes are recommended for mortars, plasters, concrete and grouts. There are three grades of Roundtower Natural Hydraulic Lime: NHL2, NHL3.5 and NHL5.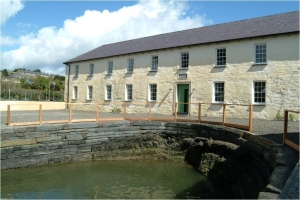 What is Naturally Hydraulic Lime?
Natural Hydraulic Lime (NHL) is obtained by the calcination of argillaceous or siliceous limestone. The burning process produces calcium oxide and calcium silicates and calcium aluminates. The resulting material is ground, hydrated and carefully packaged. The resulting Natural Hydraulic Lime, when put in contact with water, will set and harden. Carbon dioxide present in the air also contributes to this hardening process.
Natural Hydraulic Lime is mixed on site with suitable aggregates to give compatible, flexible, breathable and beautiful plasters and mortars. In conjunction with this, its very special hydraulic set gives the added benefit of robustness and long-term durability.
Why choose Roundtower Natural Hydraulic Limes ?
There are many reasons for using Roundtower Natural Hydraulic Limes:
Natural colours suitable for both conservation and new build. Excellent sand colour reproduction.
Compatibility & Suitability – variety of strengths and colours available to suit existing mortar, whatever age.
Suitable compressive strength – range allows for choice of compressive strengths. Compressive strength is achieved gradually, allowing for movement.
Stability. Some limes are prone to cracking in the medium term (3months-2 years) as carbonation continues to take place. Roundtower has an even distribution of free lime that allows for stable continuous build up of strength with no stresses and associated cracking.
Low alumina content – less susceptible to attack by salts.
Resistance to salts – no gypsum or cement make sulphate attack and
alkali-silica reactions impossible. Excellent performance even in marine environment.
Purity – No addition of any kind.
No need for blending – no need for pozzolans, cement, plasticizers, water retainers, waterproofers etc.
Great workability – Free-lime content gives excellent workability
Self-healing properties – Free-lime content also gives the mortar self-healing properties.
Versatility of use – rendering, plastering, pointing, grouts and other building mortars
Reworking – all Roundtower Natural Hydraulic limes can be re-worked within 24 hours.
Economy – low bulk density means good economy and superior volumes of mortar.
Elasticity – no expansion joints, minimal shrinkage and cracking.
Permeability – condensation dispersion, reduces rot, healthy living environment.
Resistance to weather – quick setting means less need for protection from adverse weather conditions compared to Fat lime mortars.
Resistance to bacteria & vegetable growth – alkalinity of lime inhibits growth.
Insulation – permeability reduces moisture in structure.
Recycling – building materials used with Roundtower Natural Hydraulic Limes can be recovered and re-used.
CO2 Absorption – Natural Hydraulic Lime re-absorbs CO2 during carbonation of the free lime.
Variety of international reference projects.
First class quality technical back-up service.
Technical Attributes of Roundtower Naturally Hydraulic lime
Tests are carried out in accordance with EU Norm, EN-459 and under strict laboratory conditions. All mortars tested adhere to the EU test mortar norm of 1 Binder:1.13Aggregate Mix. Aggregate used in all tests is EU standard laboratory sand(ISO0679).
 

NHL2

NHL3.5

NHL3.5 White

NHL5

Why is this important?

Physical Properties

Colour
White(73 Value)
Off-White
White(76.9 Value)
Pale Buff

Our NHL3.5 White is the most white/brightest Natural Hydraulic Lime available on the market- it is the best material to use where sand colour reproduction is of priority.

Fineness to 90 µ
4.50%
7.00%
4.10%
7.20%

The exceptional fineness of Roundtower Natural Hydraulic Limes gives an excellent plasticity and encourages high quality plastering workmanship.

Fineness to 200 µ
1.00%
1.00%
1.50%
1.50%
Expansion (soundness)
0.0 mm
0.5mm
0.2 mm
0.1 mm

The near  zero expansion of of NHL binders and the elasticity of pure NHL mortars are such that joint free construction is possible.

Bulk Density
0.649 kg/dm3
0.779 kg/dm3
0.612

kg/dm3

0.636 kg/dm3

Binders are bought by weight and used by volume.  Bulk density is important in evaluating economy comparisons .

Real Density
2.4

g/cm3

2.64 g/cm3
2.56

g/cm3

2.61 g/cm3
Plasticity/Blaine value
13200

cm²/g

7119

cm²/g

9445

cm²/g

10099

cm²/g

The Blaine value establishes the area that a gramme of lime can cover. A high value gives the lime a natural "Fatty", plastic consistency, much loved by the user.  A high value also ensures minimal shrinkage and associated cracking.

Free water
0.50%
1.04%
1.51%
1.12%

Free water is the moisture that is not combined with the material.  Excessive free water(>2%) can cause a premature hydraulic set. Roundtower's low Free Water content allows for long shelf life under normal enclosed warehouse conditions.

Mechanical Properties

Setting Times
600 mn
149 mn
216 mn
186 mn

Early initial set with slow long term hardening.

Compressive Strength

7 days

0.9 Mpa
1.70 Mpa
2.21 Mpa
2.18 Mpa

Early strength achievement is excellent in fighting frost attack.

Compressive Strength

28 days

3.3 Mpa
5.40 Mpa
5.87 Mpa
5.79 Mpa

If applied properly, NHL mortars will achieve great durability.

Penetration Test
36.5 mm
29.9 mm
34.2 mm
28.6 mm

Flexible mortars are essential to avoid cracking and are particulary suitable for solid masonry construction.

Chemical Properties

SO3
1.20%
1.53%
1.99%
2.13%

Less than 3% has no detrimental effect on Lime or Lime mortars. The minute amounts of SO3 present come from the fuel used during calcination and not the raw material.

Free Lime
33.70%
18.10%
28.20%
24.30%

Roundtower Natural Hydraulic Limes high percentage of Free Lime gives mortars exceptional workability and self-healing properties.

CaSO4 (Gypsum)
<1%
<1%
<1%
<1%

The presence of Gypsum can cause expansion, eflourescence and failures, especially in marine climates.  Roundtower Natural Hydraulic Limes are all suitable for use in marine conditions.

C3S (Tricalcium silicate)
0%
0%
0%
0%

Indicates possible cement additions.

C3A (Tricalcium Aluminate)
<1%
<1%
<1%
<1%

Reacts with Sea Salts and other Sulphates. Can affect brick and stone.

Potassium (K or K2O)
<.5%
<.5%
<.5%
<.5%

Presence of Alkalies, Potassium or Sodium, can cause Alkali/Silica reaction. Reacts with the silicates in cement and sand producing gradual disintegration.

Sodium  (Na or Na2O)
<.1%
<.1%
<.1%
<.1%
Quicklime (CaO)
0
0
0
0

Unslaked lime will expand when hydrated. Makes products unstable.

Additions (Waterproofers, plasticisers, water retainers, pozzolans, air entrainers )
0
0
0
0

Due to absence of setting agents, NHL mortars can be re-worked up to 24 hours.   Essential for minimising waste on site.

Active Clay(SiO2+AL2O3+FeO2)
c.10%
c.15%
c.15%
c.25%

The percentage of Active Clay will indicate a mortars hydraulicity. Roundtower Natural Hydraulic Limes conform to the standard EN-459.

Loss on Ignition
25%
19%
17.26%
14.85%

The loss on ignition is the sum of the free water, bound water and carbon dioxide.